Status Update: Tennis Factory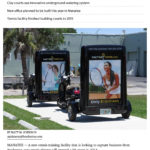 MANATEE —A new tennis training facility that is looking to capture business from Bradenton-area tennis players will expand a bit more in 2016.
The Tennis Factory finished building six new courts in 2015 and is now a few months away from constructing an office facility at its 2-acre property at 3635 Cortez Road. Started by a former assistant director at the Nick Bollettieri Tennis Academy, Tennis Factory was built as a place where recreational and competitive players can rent court time to practice or train with coaches.
Tucked between the Wildewood office complex and the College Plaza strip center, Tennis Factory is one of several privately owned tennis centers south of Bradenton. Operated by former Bollettieri Tennis Academy coach Gabriel Ferrer, the facility is geared toward players and coaches needing to rent court space on an hourly basis for practice, lessons and clinics. It is marketed toward local players and coaches.
Courts built during the first phase of Tennis Factory's construction use technology unique to the area. Three of the facility's six courts have clay surfaces. To hold up to all-day play, clay courts must typically be groomed and sprayed with water every few hours. Contractor Welch Tennis Courts of Sun City designed the Tennis Factory courts with an irrigation system built into the surface itself. It releases small amounts of water into the clay surface throughout the day, keeping them moist and reducing down time.
The three other courts at Tennis Factory sport more common hard surfaces.
Ferrer said a 375-square-foot office for the facility should be completed on a grassy field beside the courts by the end of the year. It will accommodate his business offices and provide a place for players to get out of the sun or rain.
Tennis Factory's business model is different than some other nearby tennis facilities. Players can rent courts for $8 an hour each, while group classes start at $13 per hour. Private lessons are $80 an hour. Tennis Factory employs Ferrer and two other veteran coaches to instruct players, from recreational juniors and adults to competitive elite players.
Other nearby facilities concentrate on the tennis school portion of the training market.
Earlier this year, a Palmetto company headed by a Russian national filed with Manatee County to build its proposed Tamiami Tennis Academy on a 4-acre lot on 14th Street West, south of Bradenton. To the south, 7-year-old United Tennis Academy recently upped its inventory of courts to 21 when it built six new hard-surface courts at its Bay Club Drive tennis school.
Across the street from United, IMG Academy is the biggest name on the Manatee County tennis scene. Its tennis program, which originated as the Bollettieri academy, maintains about 40 outdoor courts.
– Matt M. Johnson
"Status Update: Tennis Factory" Bradenton Herald May 27, 2016: Business