Asphalt & Concrete Tennis Court Resurfacing
Welch Tennis Courts, Inc. is not only known for being the World's Largest Builder of clay (Har-Tru) tennis courts, but is also a leader in Resurfacing and Refurbishing hard tennis courts! Our experienced staff are experts in both new construction and resurfacing.
General Guidelines for Resurfacing
Preparation of the Tennis Court Surface
Patching and Crack Repair
Application of Acrylic Surfacing Materials
 Since 2010 Welch Tennis Courts, Inc. has been the exclusive distributor of DecoTurf® Materials in the State of Florida. As you may know, DecoTurf® is the chosen surface of the U.S Open and has been since 1978. Welch Tennis Courts, Inc. offers all the products produced by DecoTurf® and stocks nearly all of their colors in our warehouse in Florida.
If your court(s) are in need of a resurfacing or repair work we would be glad to work with you!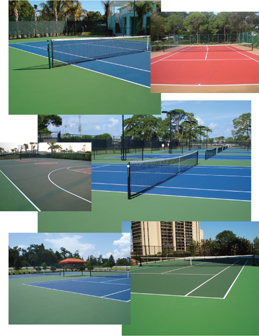 Design your own court using our Surface Colorizer. Preview color choices before making a final decision.

Tennis Court Colorizer
Want more information on tennis court installations?