Harbour Ridge Yacht & Country Club
Palm City, FL
The first phase of the Club's tennis facility rebuild. Their existing six overhead irrigated tennis courts were replaced with HydroGrid sub-surface irrigated tennis courts. All new vinyl coated chain link fence was installed and the center show courts had new environmentally friendly low profile tennis lighting installed. The original wooden gazebos were left in place and the new courts were constructed around them. Custom cut windscreens were installed on all the courts. The Club followed up Welch Tennis Courts, Inc. work with the addition of some new landscaping, various shrubs were planted, pines straw placed on the newly landscaped bed, and St Augustine sod to finish it off! The next phase is expected to start late 2015 early 2016 with a new Clubhouse, Pro Shop, and more tennis courts!
Click here to see what they said about Welch!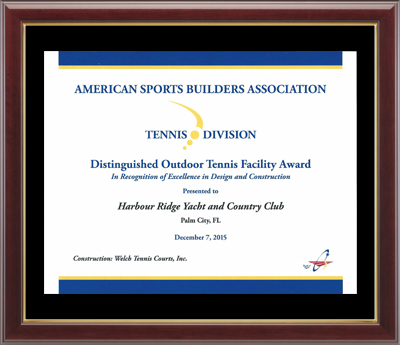 Construction Images
See the images below to view the before, during and after the construction of the facility.