Welch Tennis Courts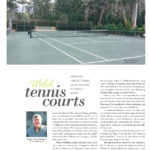 America's Largest Tennis Court Builder is Locally Based
Located in Sun City, Fla., between Tampa and Sarasota, are the headquarters of Welch Tennis Courts, the largest clay court builder in the world. Since 1973, the company has built thousands of courts, from Florida to California to New York and everywhere in between, even the Caribbean. Their projects include courts for basketball, pickle ball, volleyball and more, but tennis courts make up the majority of their work. If you play tennis locally, then it's likely you are playing on a Welchbuilt tennis court.
Whether building a single residential court or multiple courts for a community development, each job has its own identity and importance. Some projects, however, are complex and require significant innovation and creativity. The Boca Raton Resort & Club in Boca Raton, Fla., is remembered for its unique features.
Welch's President, George Todd, Jr., explained that the project called for 18 HydroGrid clay tennis courts, a subsurface irrigation system they developed. The courts, built on an elevated deck over a parking garage, was highly involved, one of the more challenging waterproofing assignments in the industry.
Closer to home, Welch was responsible for the four HydroGrid tennis courts built atop the parking garage at the Renaissance Vinoy Hotel and Tennis Club in St. Petersburg. They installed every detail, including court equipment, fencing, windscreen and lighting.
The subsurface irrigation system used in these projects eliminated the need for above ground watering, which reduces water use, material and maintenance. The cost savings is a direct benefit to the club, developer or municipality, but it also benefits the end user – the tennis player –as they enjoy the look, feel and playability of the courts.
Over the past 25 years, Welch-built projects have received more than 70 awards from the American Sports Builders of America, the Boca Raton and St. Petersburg jobs being two of them.
Through innovation, experience and reputation, Welch is the go-to company for anything court related. Whether the project calls for new construction, renovation, court equipment or accessories, Welch impacts the tennis community one court at a time. Their contribution to the sport, as well as the greater Tampa Bay area, is reason to celebrate Welch Tennis Courts.
– Teresa Thompson
"Welch Tennis Courts" Tampa Bay Tennis. 2015: 46