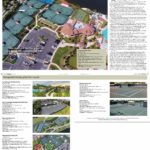 There were 17 outdoor tennis facilities that took honors in the Tennis Industry/American Sports Builders Association Distinguished Facility-of-the-Year Awards for 2014, and eight of those are soft-court projects.Five of these soft-court facility winners are located in Florida, with other winners in North Carolina, Ohio and Tennessee. But seven of these winning clay-court projects are the products of just two Florida based specialty contractors.
At the Carmel Country Club Tennis Center in Charlotte, N.C., the entire tennis court area was demolished then reshaped to accommodate the construction of 10 new clay courts and two new hard courts. Retaining walls were introduced, and some of the new sloped, landscaped areas became casual seating areas for spectators. The new drainage system uses trench drains and swales that result in courts drying much more quickly.
As part of a Miami Beach reconstruction project, the city redesigned the Flamingo Park Tennis Center and built 17 subsurface-irrigated courts and a new tennis center building. Incorporated into the concrete curb design were new fencing and trench drains.
Existing asphalt courts were converted to eight new subsurface-irrigated courts at the Mission Bay Tennis Club in Boca Raton, Fla. The original courts were installed below the surrounding ground, so a curb was installed to raise the new court surface above the ground. Challenged by steady rain, each court had to be built separately.
The new courts at the Parkland Golf & Country Club in Parkland, Fla., consist of two new subsurface-irrigated Har-Tru courts and a new asphalt court, plus a basketball court. The project included fencing, lighting, shade cabanas and court amenities.
The tennis facility at the Portage Country Club in Akron, Ohio, had six overhead-irrigated clay courts, which were converted to subsurface irrigated courts. The look of the facility was updated with new vinyl coated fencing that included "cut" corners and "v's", and new shade canopies. Drainage was improved with new polymer concrete drains on the low-end of the court batteries.
Richland Country Club in Nashville, Tenn., also converted its two courts from overhead irrigation to subsurface irrigation. Since the facility wasn't all on one elevation, getting material to and from the court posed a slight challenge, as did the frequent rain, which stopped the job several times.
The new construction at the Treviso Bay Fitness Center in Fort Myers, Fla., included eight subsurface-irrigated courts (in four two court batteries), one asphalt court, a concrete Playmate practice court, two bocce ball courts and a half basketball court. The court contractor installed a red brick curb, vinyl-coated fencing, bleachers, cabanas and lighting. Because of scheduling challenges and rain that caused access problems due to mud, multiple tennis crews needed to be working seven days a week to help the general contractor meet his deadline.
The nine new courts (and one basketball court) at Valencia Reserve in Boynton Beach, Fla., were put in in two phases, which required the contractor to match the installation down to every subtle detail during the second phase of construction. The court contractor also added fencing, curbing, lights, cabanas and court supplies. —Peter Francesconi
"Soft Goods" Tennis Industry Magazine. April 2015: 26-29